Photo by Cliff Hanna

---
Special Meeting January 23 at 7:00 PM
Agenda
2020 Board Election
Notice of 2020 Board Election
Application to Join the Board
S.D. City Council representative Barbara Bry's letter regarding the Traffic Study and Analysis for Del Mar Heights Road
DMUSD Traffic Study 3-14-2019
Del Mar Union School District letter to S.D. City Council representative Barbara Bry regarding the District's two school sites West of I5
DMUSD letter to Barbara Bry
---
Upcoming Meetings
Come join us!
Project Review Committee (PRC) Meeting 2020
CANCELLED for Thursday, January 2
General Board Meeting 2020
7 pm - 9 pm
Del Mar Hills Academy
Performing Arts Center multi-purpose room
14085 Mango Drive, Del Mar, CA 92014
---
Website Contacts
---
Drone Survey, City of San Diego
The City of San Diego was selected by the U.S. Department of Transportation and Federal Aviation Administration as one of ten agencies in the nation to participate in the Unmanned Aircraft Systems (UAS) Integration Pilot Program (IPP.
The program involves testing advanced UAS operations, such as flight at night or flight beyond visual line of sight, in order to inform the FAA's rulemaking for integration of UAS into the National Airspace.
A critical component of this program is gathering input from residents to better understand public sentiment as rules are being considered.
The survey will be open through December 31, 2018. Public Survey at www.sandiego.gov/UAS
A critical component of this program is gathering input from residents to better understand public sentiment as rules are being considered.
The San Diego UAS IPP is scheduled to run through October 2020. Fact sheet describing the San Diego UAS IPP
---
San Diego County Adult Mosquito Treatment
The following links have information on adult mosquito treatment:
For details, go to http://www.sandiegocounty.gov/content/sdc/deh/pests/wnv/wnv_activity_update/AdultMosquitoTreatmentInformation.html
Also http://www.countynewscenter.com/news/mosquito-control-spraying-set-areas-north-torrey-pines-south-del-mar
Everyone is encouraged to CONTACT Dave Roberts, our country supervisor, Sherri Lightner (City handles dredging) and Chris from the COUNTY Vector Control with any concerns regarding mosquito-transmitted diseases.
State information http://www.westnile.ca.gov
County information http://www.sandiegocounty.gov then go to: /content/dam/sdc/deh/Vector
To monitor the West Nile virus activity: http://www.sandiegocounty.gov/content/sdc/deh/pests/wnv/wnv_activity_update/west-nile-virus-activity-in-san-diegoupdated-page.html
---

S.D. Police Department Northwestern Community Relations Officer
Officer Trevor Phillips has taken over the following CRO responsibilities for our community:
Sending monthly email blast of crime and arrest stat data
Posting updates on Nextdoor.com and Facebook
Overseeing Neighborhood Watch Program
Attending the monthly Torrey Pines Community Planning Board meetings
For emergencies, call 911
For non-emergencies, call (619) 531-2000.
Officer Phillips can be reached at desk number (858) 523-7031 and at his email address ttphilips@pd.sandiego.gov.
---
Stop Uncontrolled City Growth Plans
Harry Jensen, from Morena Blvd community, is leading efforts to stop uncontrolled City growth plans. Their community is also facing over-sized City re-zoning plans. To get involved, contact Harry at: harry@morenablvd.com.
---
Wildfire Preparedness
Cal Fire website has complete information on wildfire preparedness with details about defensible space at http://www.readyforwildfire.org/defensible_space
---
San Diego District 1 City Council Representative: Barbara Bry
Daniel Orloff is our City Council community representative and will attend our monthly Board meetings.
For up-to-date information on San Diego District 1, please visit https://www.sandiego.gov/citycouncil/cd1/
---
San Diego County Supervisor Kristin Gaspar
For up-to-date information on San Diego County, please visit http://www.sandiegocounty.gov/content/sdc/bos/district3
---
California State Legislative Senator Toni G. Atkins
Chevelle Newell Tate is Senator Atkins' community representative.
For up-to-date information on California State Legislature, please visit http://lgbtcaucus.legislature.ca.gov/
---
Del Mar Fairgrounds Events and Shows
Upcoming scheduled events and shows for the Del Mar Fairgrounds: http://www.delmarfairgrounds.com
---
San Dieguito River Park Events
Upcoming scheduled events for the San Dieguito River Park http://www.sdrp.org/home.htm
---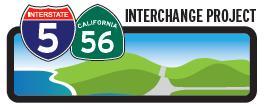 Board Releases Response to I-5/SR 56 Project Draft EIR
Caltrans is again proposing to saddle our community with a monster project that will impact our lives during years of construction and degrade the character of our community when it is done. Your Torrey Pines Community Planning Board worked very hard to identify the shortcomings of the Draft Environmental Impact Report and has responded with a detailed analysis that you can review here.
In addition to tearing down the Del Mar Heights Road bridge to make room for more lanes of the I-5 expansion, Caltrans wants to build fly-over connectors between I-5 and State Road 56 (SR 56) that rasies intense traffic noise and pollution almost 60 feet from the present road grade and pushes to as close as 50 feet of the homes along Portofino Drive. The draft environmental impact report leaves these important factors out and only direct contact with Caltrans from a board member revealed these facts.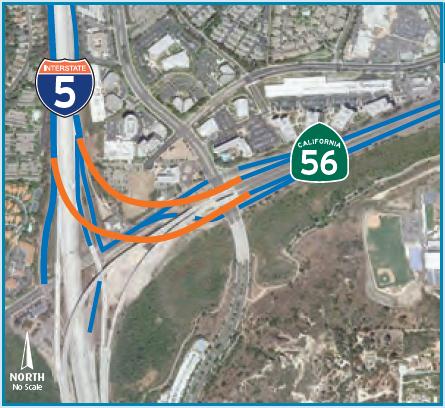 The combination of the Del Mar Heights Road bridge replacement, the I-5/SR 56 connector project and the associated massive earth moving traffic is going to slow access to the Torrey Pines community by emergency vehicles from their station on the far side of I-5 and make a mess of commuting to schools and work.
---
TPCPB Responds to One Paseo Mega Project
The Torrey Pines Community Planning Board has released its response to the One Paseo project draft environmental impact report. The 24 page response outlines the negative impacts this project would have to the Torrey Pines and Carmel Valley communities. The full response can be read here.
The Draft Environmental Impact Report for the One Paseo Project on the corner of Del Mar Heights Road and El Camino Real is available. You can read the document here.
The traffic geneated by the retail businesses, the offices and the high-rise housing is predicted to degrade the level of service of our nearby roads to unacceptable levels by government standards, and surely by our standards too. Traffic impacts are discussed in section 5 of the draft EIR.
The public comment period for this project has closed. The decision to go forward with this project will come before the San Diego in the next several months, so the best way to make your opinion count is to write to your city councilmember.
---
Asian Citrus Psyllid Attacks Local Citrus
Be on the lookout for the effects of a pest that is damaging the local citrus crop. It must be recognized and treated promptly to avoid losing our multi-million dollar per year citrus crops. If you observe off-color or misshapen fruit, call the California Department of Food and Agriculture Hotline at 1(800) 491-1899. The DFA has local offices and technicians who will respond quickly if a caller reports a suspected infestation. You can find more information from the University of California at http://www.ipm.ucdavis.edu/EXOTIC/diaphorinacitri.html
---
Support
Would you like to support the Board? The Planning Board receives no funding for the work it does for the Torrey Pines community and we welcome donations. No contribution is too small. And all donations will help the Board serve our community more effectively. Please send a message to the Board Treasurer to help us out.
---
© 2006-2019 Torrey Pines Community Planning Board